Debra Richtmeyer, Lars Mlekusch and the MIT Saxophone Ensemble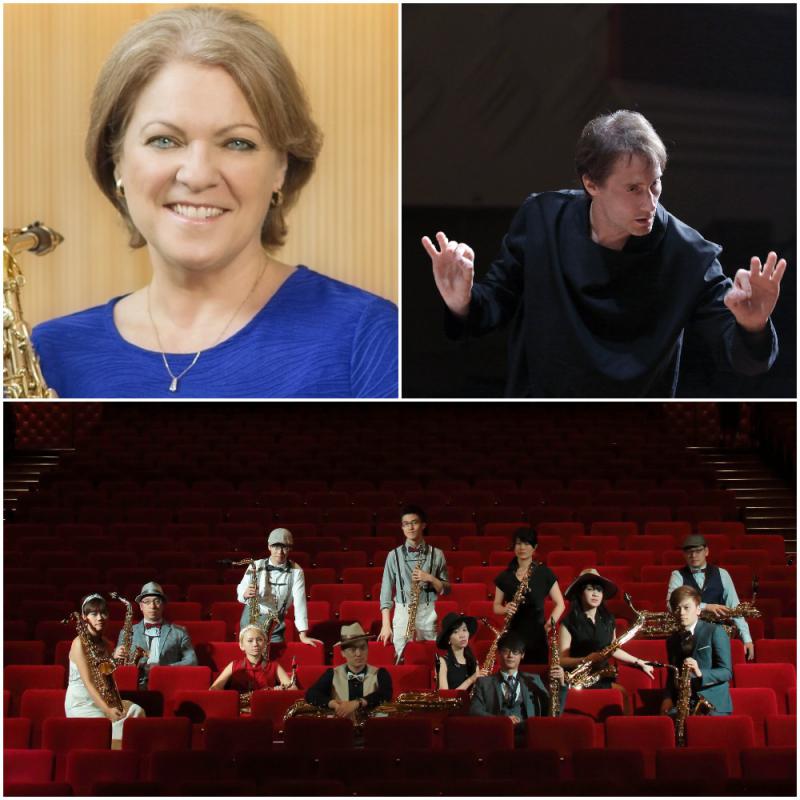 MIT (Made in Taiwan) Saxophone Ensemble
was formed in 2013 by Taiwanese saxophonists who have studied in the United States, France, Japan, Thailand, and the Netherlands. The MIT has held over 50 concerts and events since forming and has collaborated with numerous great musicians. In 2016, the MIT invited Lars Mlekusch to serve as the artistic director.
Lars Mlekusch
is a saxophonist, conductor and educator. He has performed throughout the world and has taught master classes at many renowned institutions. He has served as a jury member at prestigious international competitions, is a professor of saxophone and chamber music at the Music and Arts University of Vienna and the Zurich University of the Arts and is on the faculties of the European Saxophone University Gap, the Impuls Academy Graz and the Arosa Music Academy. He is the founder and Artistic Director of both the Vienna International Saxfest and the Zurich International Saxfest and serves as the Artistic Director and Conductor of The MIT Saxophone Ensemble.
Debra Richtmeyer
, a renowned soloist and pedagogue, has performed and taught master classes throughout North America and Europe and in China and Thailand. She was the first woman to perform a featured concerto with orchestra and to give a master class at the World Saxophone Congress. She has performed as concerto soloist with numerous bands and orchestras and was principal saxophonist with the Dallas Symphony Orchestra and the St. Louis Symphony. She has been Professor of Saxophone at the University of Illinois and at the University of North Texas and has adjudicated state, national and international competitions including the third Jean-Marie Londeix International Saxophone Competition. Richtmeyer a Honorary Life Member and Past-President of the North American Saxophone Alliance.
Li-Fong Chen, Pin-Hua Chen, Charles Hon Sun Ng, Wei-Hsi Chen, Meng-Shuan Lin, Tzu-Yun Huang, Tsung-Tzu Lee, Pai-Haw Huang, Cheng-Yen Chang, Po-Fang Chang, Chih-Yu Chang, Kuan-Wen Chen

Debra Richtmeyer, saxophone
Lars Mlekusch, conductor

http://www.illinoissaxophonestudio.com
Debra Richtmeyer, Lars Mlekusch and the MIT Saxophone Ensemble

ensemble performance

Alexander Glazounov (1865-1936): Concerto for alto saxophone and string orchestra, Op. 109 (arr. Mi-Bémol Saxophone Ensemble)

CROATIAN NATIONAL THEATRE Trg Republike Hrvatske 15