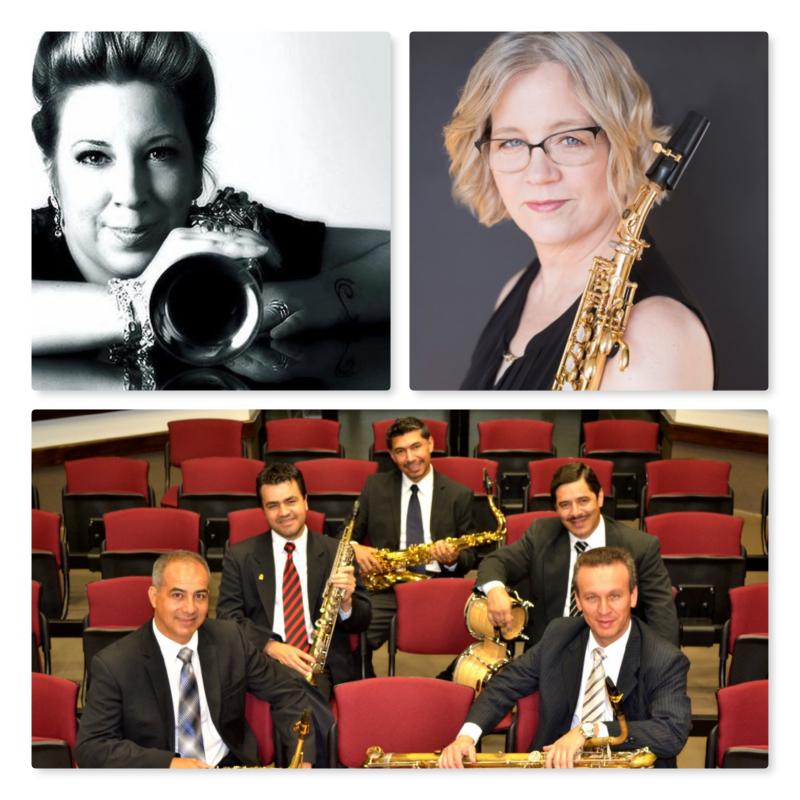 Sue McKenzie
is the Director of the Scottish Saxophone Academy, was an Assistant Director of the 16th World Saxophone Congress and is the leader and founder of the Scottish Saxophone Ensemble. As part of the McKenzie Sawers Duo she has given premieres of many new works. She studied with Kyle Horch at Royal College of Music as well as with Eugene Rousseau, Lynn Klock, David Murray and David Binney. She regularly performs with the internationally renowned Salsa Celtica and Glasgow Improvisor's orchestra.
Julia Nolan
has served as a clinician and international judge in Belgium, Hong Kong, Taiwan, and the United States and is currently the Director of Scholarly Publications for the North American Saxophone Alliance. Dr. Nolan teaches saxophone at Kwantlen Polytechnic University and the University of British Columbia. An active performer, saxophonist Julia Nolan has numerous commissioned works by Canadian composers.
Latino Sonsax
has become one the most influential saxophone ensembles from Latin America, performing hundreds of concerts in countries such as Russia, Japan, Canada, United States, Chile, Brazil, Peru, Colombia, France, Germany, United Kingdom, México, Central America, among others. Sonsax has released 4 recordings and a DVD of exceptional breadth and creativity making many appearances in different radio and TV shows in Latin America and has presented clinics and Masters classes in many Universities around the world.
Escocia International
Sue McKenzie, saxophone
Julia Nolan, saxophone
Latino Sonsax
Javier Valerio, Manrique Mendez, Pablo Sandi, Harold Guillén, Arturo Castro
http://www.suemckenziesaxophone.com
Escocia Internacional

ensemble performance

Sue McKenzie (1972): Faramach (premiere performance)

MUSEUM OF ARTS AND CRAFTS - Atrium Trg Republike Hrvatske 10