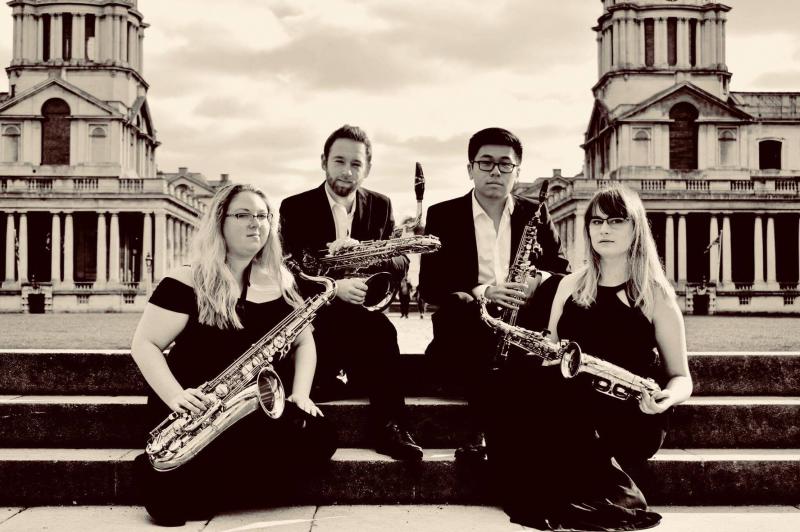 All four members of
Momentum
graduated from the University of Southampton, UK, where they studied under Dr. Angela Space. They are all now students at top Conservatoires across the UK. They have performed in masterclasses with saxophonists such as Lynn Klock, Vincent David, Jerome Laran and Nikita Zimin. They are an engaging and vibrant ensemble made up of individually-outstanding musicians.
Wayne Hau
is a London-based saxophonist and multi-instrumentalist who is studying for a Masters in Music Performance at Trinity Laban Conservatoire of Music and Dance, under the direction of Gerard McChrystal and Melanie Henry.
Hannah Brierley
is from Oxford, UK and is also studying at Trinity Laban with Gerard McChrystal and Melanie Henry. For many years she has enjoyed performing in pit orchestras around the UK on the saxophone, clarinet and flute.
Emily Cox
is a classically-trained saxophonist and multi-instrumentalist from Dorset, UK. She was awarded a scholarship to attend the Royal Northern College of Music for her Masters in Music Performance, under the tutelage of Rob Buckland, Carl Raven and Andy Scott. Based in London,
Laurence Astill
is studying at the Royal College of Music for his Master of Performance under the tutelage of Kyle Horch. An accomplished teacher and performer, Laurence has received a number of awards and grants from organizations including the EMI Music Sound Foundation.
Wayne Hau, soprano saxophone
Hannah Brierley, alto saxophone
Emily Cox, tenor saxophone
Laurence Astill, baritone saxophone
Momentum Quartet

recital

Guillermo Lago (1960): Ciudades - Córdoba, Sarajevo, Addis Abeba, Montevideo, Köln, Tokyo

STUDENT CENTER Theatre &TD Semicircular Hall Savska cesta 25