Gillian Blair, Nathan Mertens and Rie Yokota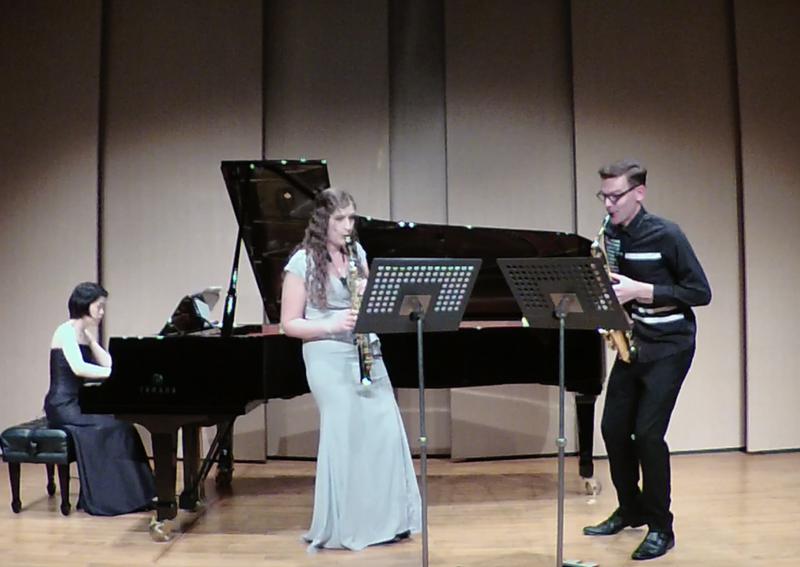 Mertens
and
Blair
met in 2015 whilst studying at the Université Européenne de Saxophone in Gap, France. The duo have seen their friendship grow into an exciting musical collaboration, and have given performances together in both Asia and Europe over the past two years.
Gillian Blair
graduated from the Royal Northern College of Music with a First Class BMus (hons) degree in 2014 and a Masters degree with distinction in 2016. She has won numerous competitions including the International Young Musician Competition. She has performed at festivals and concert series' including the BBC Proms, World Saxophone Congress (St Andrews and Strasbourg), EurSax (Porto) and as a concerto soloist she has performed with ensembles including the City of Peterborough Symphony Orchestra and Oldham Symphony Orchestra. She is on the faculty at the Junior Royal Northern College of Music and the University of Sheffield.
Nathan Mertens
graduated from The University of Texas at Austin – Butler School of Music with his Doctor of Music Arts degree in Saxophone Performance and he also received his Master's degree. He also did additional work at the Université Européenne de Saxophone in Gap, France. He completed his undergraduate work at Hastings College in Nebraska, graduating magna cum laude in Saxophone Performance and Woodwind Pedagogy. He is currently based Tokyo, Japan as a recipient of the Monbukagakusho Research Student Scholarship. Mertens has performed concertos with the Busan Philharmonic Orchestra, Hastings Symphony Orchestra and The University of Texas Symphony Orchestra. He has been a finalist of the North American Saxophone Alliance Solo Competition, Arapahoe Philharmonic Concerto Competition, etc.
Rie Yokota
graduated from Kunitachi College of Music where she studied underneath the tutelage of Izumi Komoriya, Tunemi Naraba and Syoko Kuma. Rie leased the album Fra Holbergs Tid with Trio Akkort in 2011, on which she played the saxophone, euphonium and piano.
Gillian Blair, soprano / alto saxophone

Nathan Mertens, alto / tenor saxophone
Rie Yokota, piano

http://www.nathanmertens.com
Gillian Blair, Nathan Mertens and Rie Yokota

recital

Zack Browning (1953): Right at the Dead End trio for 2 Saxophones and piano (European premiere)


Andrew Boss (1988): still untitled (premiere performance)

Andy Scott (1966): Tjuonavagge trio for soprano and tenor saxophones and piano (premiere performance)


Lucy Armstrong (1991): The Other Dust trio for 2 saxophones and piano (European premiere)

ACADEMY OF MUSIC Svetislav Stančić Hall Trg Republike Hrvatske 12