Current Saxophone Quartet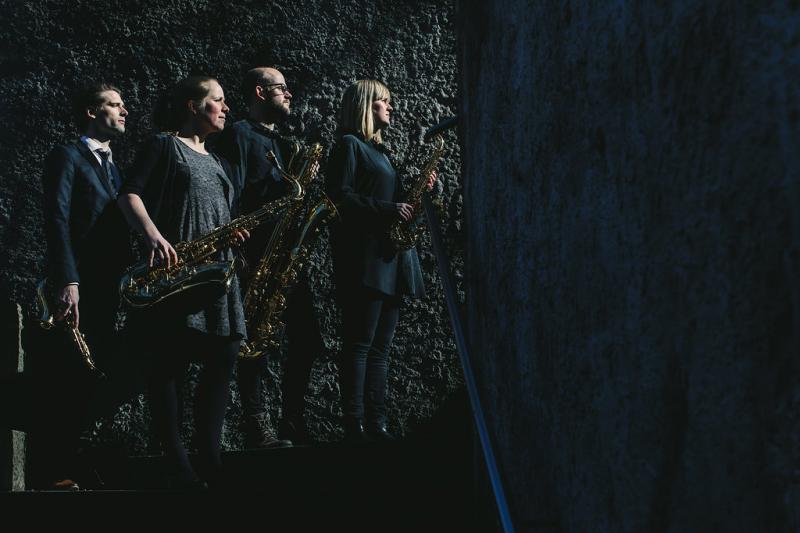 Current Saxophone Quartet
was founded in Oslo (2010) out of the common wish of performing contemporary music written for saxophone quartet. The quartet's main interest is to commission and perform music especially written for the ensemble. The quartet has played at the World Saxophone Congress XVI and XVII, the Scandinavian Saxophone festival and in 2016 Current has toured with both concerts and masterclasses in England, Spain, France and Finland in addition to several concerts in Norway.
Anders Abelseth
is currently a master student at The Norwegian Academy of Music in Oslo. He has a bachelor's degree from The Royal Academy of Music in Aarhus and has a Post Graduate from Escola Superior de Música de Catalunya in Barcelona. Anders is an active performer in different contemporary music arenas.
Åshild Henriksen
has a master degree in classical saxophone from the Norwegian Academy of Music. In her studies her main project was performing and researching contemporary and folk music from different countries. Today she works as a freelance musician in professional ensembles in Norway and as a soloist performer.
Gudrun Faleide Fristad
finished her master's degree, from the Norwegian Academy of Music in Oslo in 2012 and has since then been active as a freelance saxophonist both with her own projects, and contemporary music duos and as a substitute in all the six professionals wind bands in Norway and the Oslo Philharmonic. After audition in 2014 she started in 2015 as a full-time employee, as a saxophone player, in the Staff Band of the Norwegian Armed Forces North-Norway.
Silje Eckhoff Varhaug
is educated as a musician and a pedagogue from The Norwegian Academy of Music in Oslo, Norway. Currently she lives in Oslo and works as a freelance musician in various stages and settings. At the same time, she works as a conductor and a saxophone teacher.
Anders Abelseth, soprano saxophone

Åshild Henriksen, alto saxophone
Gudrun Faleide Fristad, tenor saxophone
Silje Eckhoff Varhaug, baritone saxophone
http://www.currentsax.com
Current Saxophone Quartet

recital

Klaus Egge (1906-1979): String Quartet Op. 5 - Largo Funebre, Allegro, Andante Fugato, Finale: Allegro
collective by Current: Current Distractions


STUDENT CENTER Theatre &TD Big Hall Savska cesta 25