h2/4 Duo and Ryan Gardner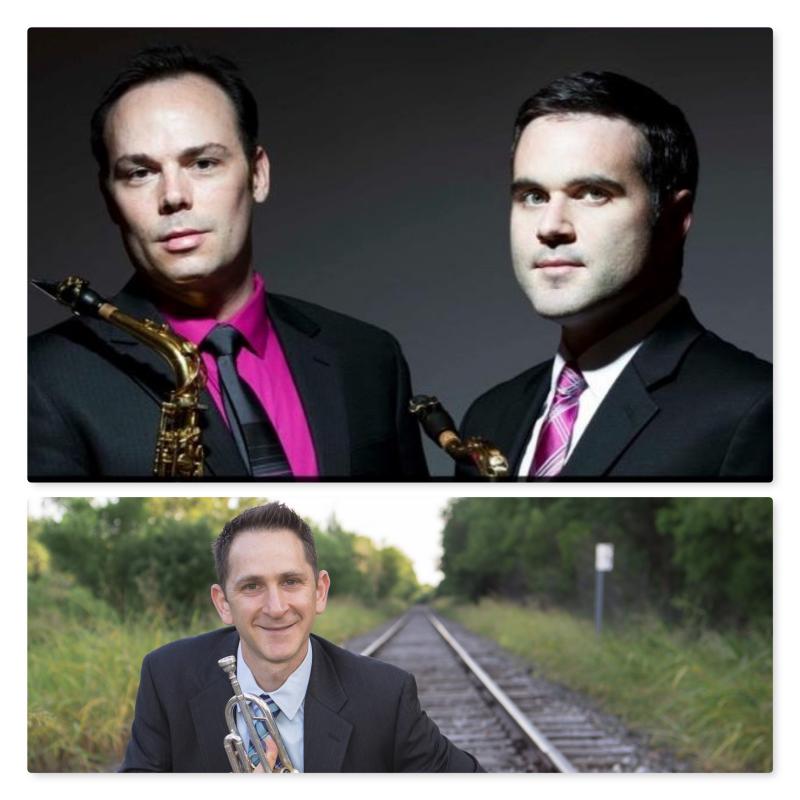 The h2/4 Duo
is comprised of founding members of the h2 quartet, Jeffrey Loeffert and Jonathan Nichol. h2 is dedicated to commissioning and performing compelling new works for saxophone quartet, and operates as a non-profit organization. The group is also in demand for appearances and residencies at summer music festivals both at home and abroad, including the Blue Lake Fine Arts Camp in Michigan and the Cortona Sessions for New Music in Italy. The h2 quartet also hosts the Great Plains Saxophone Workshop during the summer months. As members of the h2 quartet, the ensemble has released five critically-acclaimed recordings: Generations, Times & Spaces, Groove Machine, Hard Line, and Enrapture.
Jeffrey Loeffert
serves as Associate Professor of Saxophone at Oklahoma State University. A dedicated teacher, Loeffert recently received the Oklahoma State University College of Arts & Sciences Junior Faculty Award for Scholarly Excellence, the Wise-Diggs-Berry Award for Teaching Excellence, and the Friends of Music Distinguished Music Professor Award.
Jonathan Nichol
is Associate Professor of Saxophone at the University of Oklahoma. He holds a Doctor of Musical Arts degree (2010) and a Master of Music degree (2007) from Michigan State University and a Bachelor of Music Education degree (2005) from Central Michigan University. Jonathan's primary teachers include John Nichol, Joseph Lulloff, Robbie Smith, Diego Rivera, and Rodney Whitaker.
Jeffrey Loeffert, saxophone
Jonathan Nichol, saxophone
Ryan Gardner, trumpet

http://www.h2quartet.com
h2/4 Duo and Ryan Gardner

recital

Forrest Pierce (1972): Prima Materia
Takuma Itoh (1984): Snapshots - Grotesque, Chain, Haunted, Early Bird Special
Igor Karača (1974): Echo Caves II for soprano saxophone, trumpet and prerecorded piano and electronic sounds (premiere performance)

ACADEMY OF MUSIC Fran Lhotka Hall Trg Republike Hrvatske 12