Bensmann Saxophone Quartet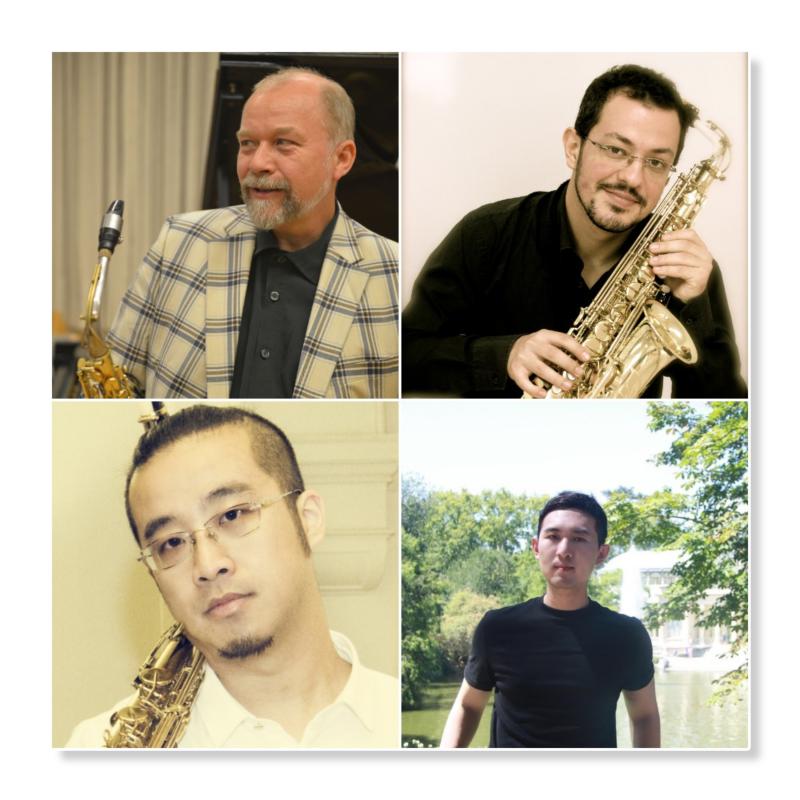 Detlef Bensmann
studied saxophone with Prof. Omar Lamparter and double bass with Prof. Heinz Jablonski in Berlin, Germany. After playing double bass in the orchestra of the Deutsche Oper Berlin (1979/80), he started his career as a saxophone soloist with a debut concert in the Berlin Philharmonie with the Radio Symphonie Orchestra Berlin (DSO) and a first recording of concerto for saxophone and orchestra (1980). He reguarly performs internationally with world-class orchestras and renown conductors, such as Dmitrij Kitajenko, Kazushi Ono, Sian Edwards, Eiji Oue, Tetsuro Ban, David Shallon, Michael Dixon, Golo Berg, Neil Thompson, Jorge Lopez Marìn (Cuba), Olaf Koch and others. More than 25 concertos have been composed especially for Detlef Bensmann (mostly recorded) and he has premiered more than 100 compositions for chamber ensembles or solo pieces. In 1983, he founded the Berlin Saxophone Quartet and in 2006 he founded "Bensmann-Saxophone-Quartet", with students of his master-class. After his graduation in Skopje,
Ninoslav Dimov
continues his studies in Berlin, at the Universität der Kunste, in the class of prof. Detlef Bensmann. He acquired many state and international competition awards, and he is a regular participant at prestigious master classes and seminars for saxophone in Slovenia, France, Germany .... Along his countless solo recitals, Ninoslav has many soloist appearances with Macedonian Philharmonic Orchestra, Bitola Chamber Orchestra, Kosova Philharmonic Orchestra... From 2017, he is founder and appointed artistic director of the International Saxophone and Clarinet Festival "SaxClar" in Skopje, Macedonia. He is associate professor for saxophone at the Faculty of Music in Skopje.
Tianhong Wu
is a Chinese saxophonist who won a second prize at the first Yamaha Jiangsu wind instrument competition, first prize at the Yangzhou City wind instrument competition, first prize at the German Die Holz Pur wind chamber competition. He graduated composition and composition technology theory at the Nanjing Art University. He is now a graduate of classical saxophone under professor Detlef Bensmann at the Berlin University of Art.
Pai Liu, born 1990 in China, started playing saxophone when he was seven years old. In 2003 Pai Liu won the First prize at the Yamaha Saxophone Competition, and studied at the Shenyang Conservatory of Music. After three years he continued his classical saxophone studies with prof. Li at the Central Conservatory of Music in Beijing. In 2008 he won the First prize at Bailin International Music Competition. From 2011, Pai Liu studied classical saxophone with Detlef Bensmann and Uwe Steinmetz at the Hochschule für Musik und Theater in Rostock, where he got his Bachelor Degree. Then he continued his Saxophone Master studies with Detlef Bensmann at the Hochschule für Musik Hanns Eisler in Berlin.
Detlef Bensmann, soprano saxophone
Tianhong Wu, alto saxophone
Pai Liu, tenor saxophone
Ninoslav Dimov, baritone saxophone
Bensmann Saxophone Quartet

recital

Raymond Moulaert (1875-1962): Andante, Fugue et Final

Detlef Bensmann (1958): Two Butterflies in Love

Pande Shahov: Saxophone Quartet - Urban Rains, November, Oro

Bedřich Smetana (1824-1884): Vltava / Die Moldau - I. Die Quele, kalte und warme Moldau (arr. Detlef Bensmann)

ACADEMY OF MUSIC Svetislav Stančić Hall Trg Republike Hrvatske 12