Mark Watkins and Ray Smith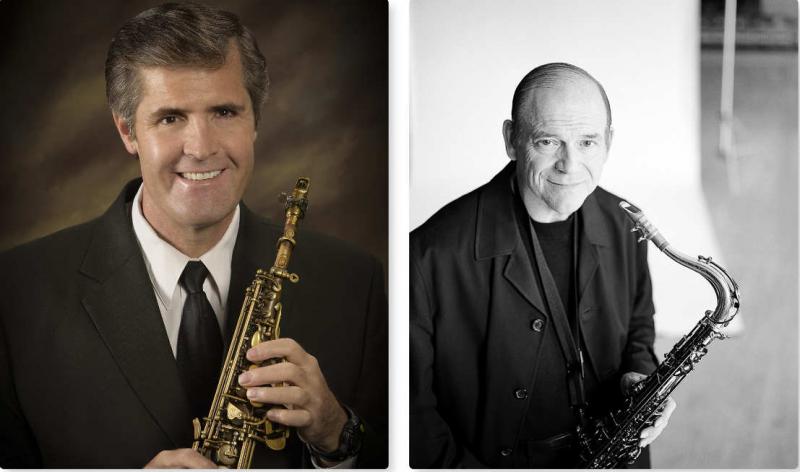 Dr. Mark Watkins has performed and lectured throughout the U.S., England, Wales, France, The Netherlands, Switzerland, Austria, Italy, Slovenia, Canada, Chile, Thailand, Singapore, and The Philippines, Puerto Rico, the Dominican Republic, had a broad Europe tour in 2012. Watkins has over 100 compositions and 38 publications to date with Walrus Music, Roncorp/Northeastern, and Dorn. He has released numerous articles in periodicals including The Saxophone Symposium and JAZZed Magazine. Dr. Watkins received his doctorate in five woodwind instruments from Indiana University and presently serves as Director of Jazz Studies at Brigham Young University–Idaho.
Dr. C. Raymond Smith is one of those relatively rare individuals who is an excellent performer and an excellent teacher at the same time. Currently, he teaches at Brigham Young University in Provo, Utah as the Director of Jazz Studies and Professor of Saxophone. As a performer, Smith is equally at home in either classical or jazz-related styles and is adept at all five of the woodwind instruments: flute, oboe, clarinet, bassoon, and saxophone. He has over 130 CD credits and has recorded on many film scores, television themes and jingles. Smith also does clinics and performances at colleges and high schools and adjudicates at jazz festivals. In the summers he teaches at various jazz workshops.
Mark Watkins, saxophone
Raymond Smith, saxophone
Mark Watkins and Ray Smith

lecture

From the Inside Out: An In-Depth Resource for the Development of Saxophone Sound


UNIVERSITY OF ZAGREB Auditorium Trg Republike Hrvatske 14