Guernica Saxophone Ensemble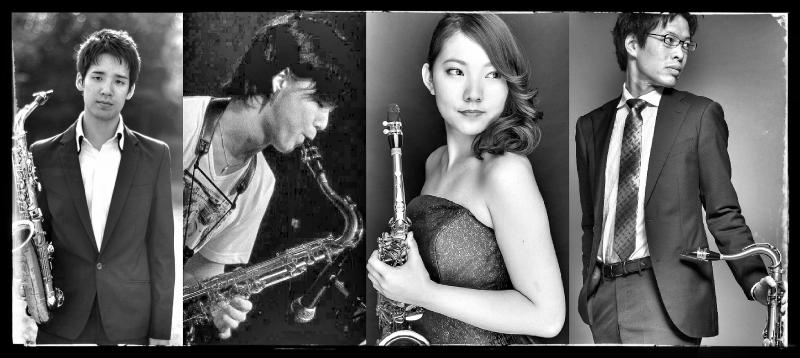 Guernica Saxophone Ensemble
is saxophone group in Japan whose members are Koji Yamamoto, Daisuke Namiki, Hajime Kuribayashi and Yuka Yoshikawa.
Koji Yamamoto
studied saxophone with Nobuya Sugawa and Hirokazu Hayashida. He won 1st prize in 16th Japan Junior Winds and Percussion Competition and 3rd prize in 6th Akiyoshidai Music Competition. He performs not only classical music but also contemporary music and improvisation.
Daisuke Namiki
studied saxophone with Satoshi Kato. He won Grand Prix in Japan Classical Music Competition (2015) and Kantokoushin'etsu branch tournament of the JBA Junior & High School Wind and Percussion Instrument Solo contest(2012), and became a finalist of the Junior saxophone competition (2015).
Hajime Kuribayashi
studied saxophone with Yoshiyuki Hattori and Akira Matusyuki. He is a founding member of Tsukuba Saxophone Quartet and won gold prize in 9th and 10th Japan Saxophone Association Ensemble Competition. He also performed at the 16th and 17th World Saxophone Congress.
Yuka Yoshikawa
studied saxophone with Sadahito Kunisue. She won gold prize in 12th Japan Wind and Percussion Solo Competition. She became a finalist of 23rd and 24th Japan Classical Music Competition. She is a member of Ensemble Factory and premiered Paul Creston's "Quartet" in Japan.
Koji Yamamoto, soprano saxophone; Daisuke Namiki, alto saxophone; Hajime Kuribayashi, tenor saxophone; Yuka Yoshikawa, baritone saxophone
& Kishin Nagai, piano
http://kurisaxo.blogspot.jp/
Guernica Saxophone Ensemble

recital

Koji Ueno (1960): Euforbia for saxophone quartet and piano (premiere performance)


Koji Ueno (1960): Volga Nights for saxophone quartet and piano

ACADEMY OF MUSIC Vaclav Huml Hall Trg Republike Hrvatske 12