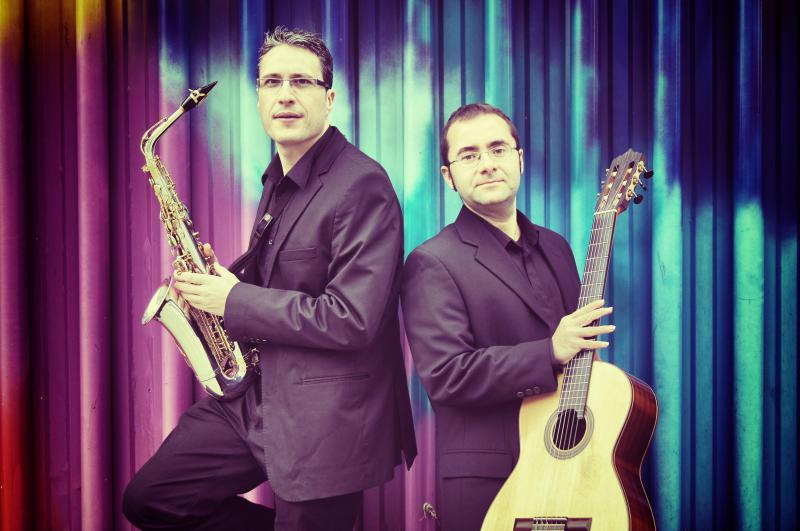 The combination of saxophone and guitar is quite unusual for a chamber music ensemble, due in part to the very different characteristics of both instruments. It was the research on new instrumental and timbrical resources that inspired Alfonso Padilla (saxophone) and Alberto Plaza (guitar) to establish this singular duo in 2009 with the aim of promoting the possibilities of this unexplored combination. The group makes use of two very popular instruments in a new way, employing all the new techniques and possibilities of both instruments developing all the resources in a surprising way. Icarus Duo has performed around Spain in many festivals premiering works specially written for them by Spanish composers as Santiago J. Báez, Antonio J. Flores, Rafael Díaz and Ramon Humet among others. They have also performed at Scandinavian Saxophone Festival 2013 in Aahrus (Denmark), XVII WSC in Strassbourg (France) and Eventosax 2016 in Rome (Italy. They have recorded their first CD which will be published in 2018.
Alfonso Padilla López
is saxophone teacher at Conservatorio Superior de Música Manuel Castillo in Sevilla. As a soloist he has toured Europe and USA and is a member of Ziryâb Saxophone Quartet.
Alberto Plaza Fernández
, guitar soloist, winner of many international contests, is a member of Duo Rosique-Plaza and a teacher at Conservatorio de Música Ana Valler in Utrera.
Alfonso Padilla López, saxophone
Alberto Plaza Fernández, guitar

http://www.alfonsopadilla.com
Icarus Duo

recital

Damien Charron

(1957):

En éventail

for saxophone and guitar (premiere performance)

Ramón Humet (1960): Poetic pieces for soprano saxophone and guitar - A night piece, Devil's song, L'hora de mel de mitjanit

ACADEMY OF MUSIC Vaclav Huml Hall Trg Republike Hrvatske 12