João Pedro Silva and Pedro Vieira de Almeida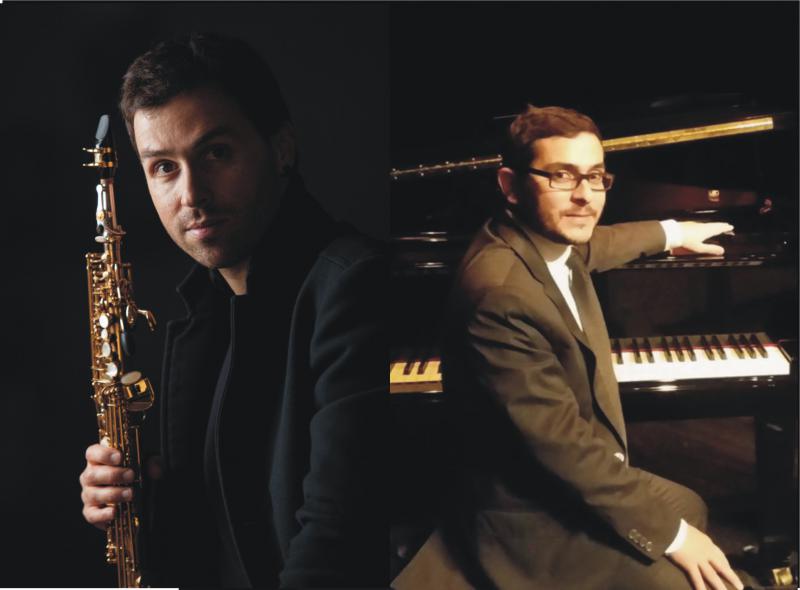 With more than 10 years playing together, João Pedro Silva & Pedro Vieira de Almeida
have played and recorded new Portuguese music for saxophone and piano, dedicated to them, edited in three CD's.
João Pedro Silva
has a master's degree in saxophone performance and music pedagogy from the Lisbon Superior Music School. He studied with José Massarrão, Alberto Roque and Pedro Moreira. He also attended masterclass with Daniel Deffayet, James Houlik, Jean-Marie Londeix, Claude Delangle, etc. He was laureate on several saxophone competitions. As a soloist, he has performed with the Portuguese Symphonic Band, Lisbon Sinfonietta Orchestra, Portuguese Navy Band, Portuguese Republican Guard Chamber Orchestra, Lisbon Metropolitana Wind Orchestra, among others. His discography contemplates 11 CDs. He is a member of the Bros. Quartet, Artemsax and L.U.M.E. - Lisbon Underground Music Ensemble. He is author of the first Portuguese pedagogical book for the saxophone learning. He is saxophone and chamber music professor at the Lisbon Metropolitana Professional Music School and Palmela Conservatory.
Pedro Vieira de Almeida
began his piano lessons with 6 years. He got his master's degree in chamber music on the Universidade Nova de Lisboa and Lisbon Superior Music School. Almeida is a laureate on several piano competitions. He is the piano player of the Palmela International Saxophone Festival and the Almada International music competition. Today, he is a professor at the Escola de Música do Conservatório Nacional and Academia de Música de Almada.
João Pedro Silva, saxophone
Pedro Vieira de Almeida, piano
& guest musician Gerard McChrystal, saxophone
http://www.joaopedrosilva.org
João Pedro Silva and Pedro Vieira de Almeida

recital

Jorge Salgueiro (1969): Danças do Cão - I. movement

Lino Guerreiro (1977): Ostinatus - II. movement

Daniel Bernardes (1986): Movimento Perpétuo - Interlúdio e Canção (premiere performance)

John Costa (1922-1996): Firebrand

Astor Piazzolla (1921-1992): Close your Eyes and Listen (arr. José Condinho)




ACADEMY OF MUSIC Fran Lhotka Hall Trg Republike Hrvatske 12