Sean Mix, Amelia Gould and Larry Bell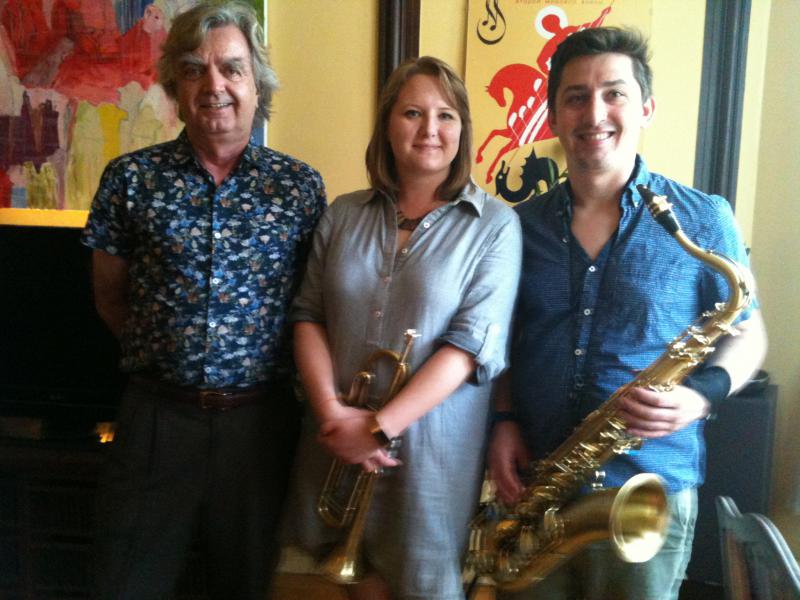 Recognized in 2016 as the 3rd place finalist for the American Prize in Instrumental Performance,
Sean Mix
has previously been named a semifinalist in the Londeix International Saxophone Competition (Bangkok, 2014) and the Dilson Florencio International Competition (Brasilia, 2015). Other recent highlights include a recital at the 17th World Saxophone Congress in Strasbourg, France, and regular appearances throughout the United States. Equally in demand as a chamber musician and ensemble player, Sean appears frequently with groups throughout the Northeast including Boston Modern Orchestra Project, Monadnock Music, Atlantic Symphony, Glens Falls Symphony, Matti Kovler Ensemble, etc. Sean studied at Boston University, the New England Conservatory of Music, and the University of Southern California. He is a member of the music faculty at the Wellesley Public Schools.

Amelia Gould
is currently a Science Operations Associate at Howard Hughes Medical Institute. She earned her Masters of Music degree in trumpet performance at New England Conservatory and works as a freelance trumpeter in the Boston area.
Composer and pianist
Larry Thomas Bell
has been awarded the Rome Prize, fellowships from the Guggenheim and Rockefeller Foundations, the Charles Ives Award from the American Academy of Arts and Letters, and grants from the American Music Center, the American Symphony Orchestra League and Meet the Composer. He has been a resident composer at Bennington College, the Woodstock/Fringe Festival and the American Academy in Rome. Bell's music has been widely performed in the United States and abroad by such orchestras and ensembles as the Atlanta Symphony, Seattle Symphony, RAI Orchestra of Rome, Juilliard Philharmonia, Boston Modern Orchestra Project, Ruse Philharmonia (Bulgaria), Civic Symphony Orchestra of Boston, University of Miami Symphony, Boston Landmarks Orchestra, ÖENM (Salzburg Mozarteum), Speculum Musicae, St. Luke's Chamber Ensemble, New York New Music Ensemble and Borromeo String Quartet, as well as at festivals in Ravinia, Aspen, Valencia (Spain), Pontino (Italy), San Salvador, Moscow Autumn (Russia), Ljubljana (Slovenia), Australia, New Zealand, Edinburgh Festival (Scotland) and the Boston Early Music Festival fringe concerts. Sixteen recordings of Bell's works appear on North/South Recordings, Vienna Modern Masters, Arabesque and Albany Records. As a pianist, Bell performs his music regularly and has championed works by American composers. He has given recitals throughout the United States, as well as in Italy, Austria and Japan.
Sean Mix, saxophone
Larry Bell, piano
Amelia Gould, trumpet

http://larrybellmusic.com
Sean Mix, Amelia Gould and Larry Bell

recital

Larry Bell (1952): Dazzling Duo for tenor saxophone and piano - A little improv, Don't tease me!, Anna's Song, Run With It

Larry Bell (1952): Serenade No. 3 for tenor saxophone, trumpet and piano - Overture, Interlude, Duet, Chase

ACADEMY OF MUSIC Svetislav Stančić Hall Trg Republike Hrvatske 12