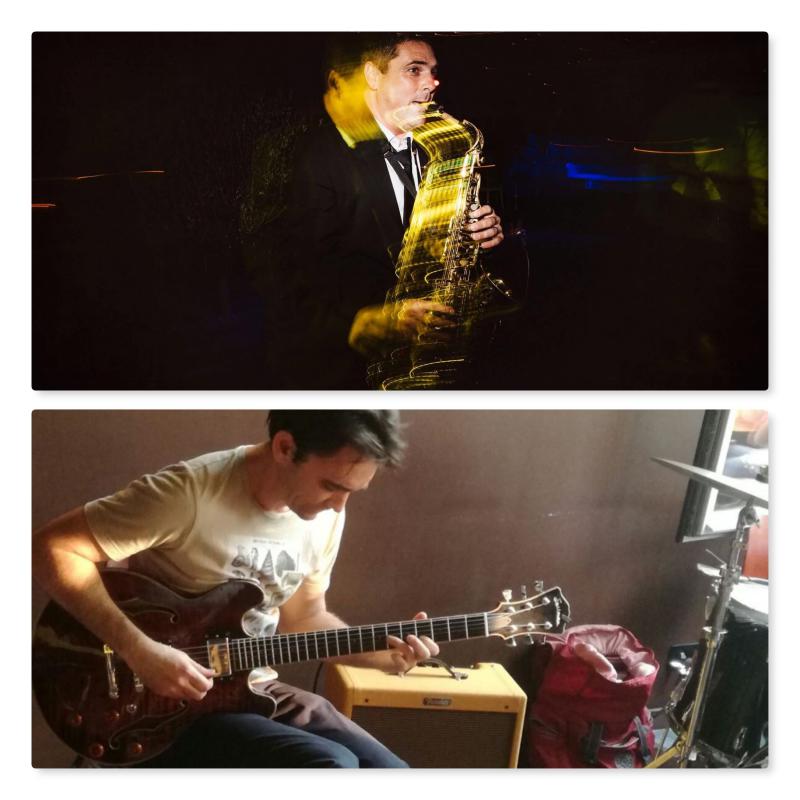 Vanja Ilekovic
and
Rich Patitucci
have cultivated their musical rapport over several years. Often shedding jazz standards in an underground garage by day and later sharing the stage in jazz clubs and cafes at night. From this a desire to create their own music evolved and they have begun performing original compositions and arrangements as a guitar and sax jazz duo as well as in a jazz guitar quartet. The duo,
Fragments
, presents a compelling individual sound that draws on jazz, classical and more creative aspects of rock and popular music.
Vanja Ilekovic
graduated from the University of Zagreb Conservatory in 2001. He has attended many seminars with world renown saxophonists and musicians, including Ernie Watts, Claude Delangle, and Eugene Rousseau. In addition to his ongoing tenure with Croatian Military's Symphony Orchestra and Big Band he regularly contributes to a wide range of projects. He is a member of the Donna Lee Saxophone Quartet, with whom he has recorded two CDs, Four Odd and Mellow. He also performs with several popular pop, rock, swing and jazz bands, including The Swingers, Soul Fingers, Mr. Dynamite, Brian Holiday, and Neki Novi Klinci. Rich Patitucci (USA): Rich's story is not that of a typical professionalmusician. From an early age he was a voracious and astute listener of almost every genre of music. While studying philosophy at university, he decided listening wasn't enough. He quickly bought a guitar and began composing his own music. As a restless nomad in both life and art, his wandering landed him in Zagreb, Croatia, where he formed the rock power trio Southern Alias and began studying jazz and classical music with local musician Mario Igrec. In 2013 Rich left Croatia to formally study music and composition in Antwerp, Belgium. He graduated in jazz performance in 2017 and currently resides in Brussels where he composes and performs regularly, most notably with his jazz combo Alloy.
Vanja Ileković, saxophone
Rich Patittuci, guitar

Duo Fragments

recital

Rich Patitucci (1974): Hymna

Rich Patitucci (1974): Shorter Stack


Rich Patitucci

(1974):

Pop Tune

Rich Patitucci (1974): Alloy

Rich Patitucci

(1974):

Hall Tone Blues

Rich Patitucci (1974): Ivona

STUDENT CENTER MM Center Savska cesta 25