Glen Gillis and James E. Cunningham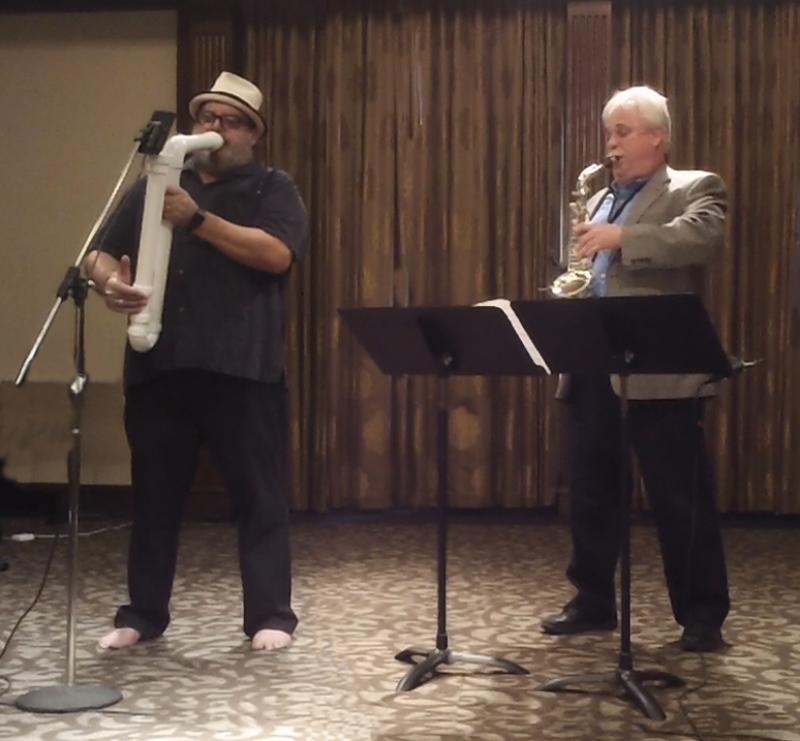 The Gillis Cunningham Duo
is an avant garde electro-acoustic ensemble comprised of Dr.
Glen Gillis
(saxophone, University of Saskatchewan) and Dr.
James E. Cunningham
(didgeridoo, conch trumpet, percussion, and electro-acoustic computer processing, Florida Atlantic University). They have been composing and performing their own brand of original music since 1999 at music conferences and festivals. Their most recent international performances include appearances at the 2015 World Saxophone Congress and SaxOpen in Strasbourg, France, the 2016 NASA Biennial and 2017 Region 9 Conferences, the 2016 STRATA New Music Festival in Saskatoon, Saskatchewan, Canada, and the 2017 British Forum for Ethnomusicology in Sheffield, England. The current direction of the duo involves the use of real-time captured digital convolution reverb and high-speed computer processing with the goal of integrating acoustic instruments, pre-recorded source material, and video in a live interactive performance environment.
Glen Gillis, saxophone
James E. Cunningham, didgeridoo
http://artsandscience.usask.ca/profile/GGillis#/profile
Glen Gillis and James E. Cunningham

recital

James E. Cunningham (1954), Glen Gillis (1956): Suite for didgeridoo and saxophone - One Pitch, Slide, Multi-Pitch (premiere performance)


STUDENT CENTER MM Center Savska cesta 25