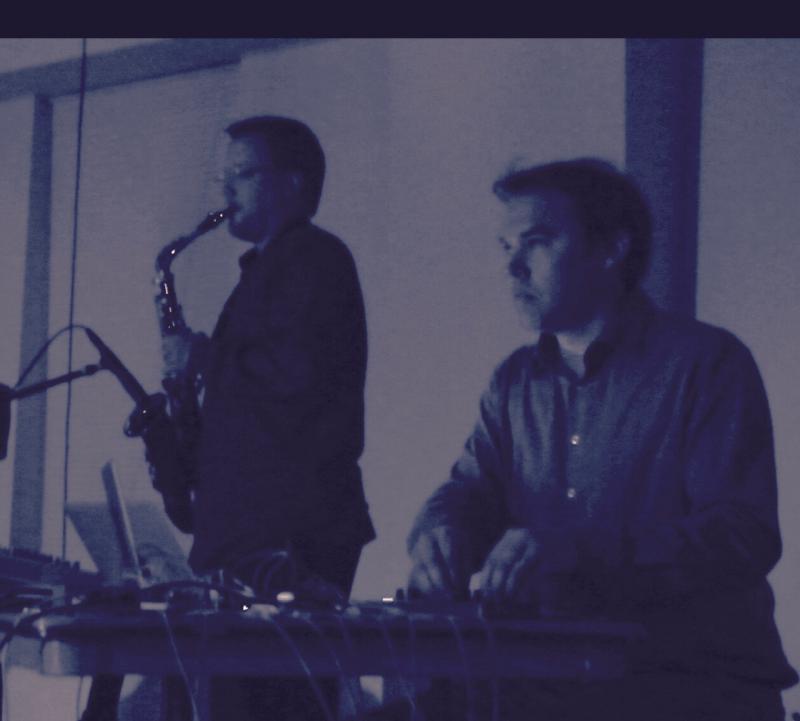 Saxophonist and conductor
Matthew McClure
is equally comfortable performing avant-garde improvisations in unusual venues as well as standard classic saxophone repertoire on the concert stage. His current professional pursuits include teaching saxophone at the University of North Carolina at Chapel Hill and as the music director at Church of the Good Shepherd in Durham, NC. McClure enjoys musical experimentations including alternative venue performances, unusual collaborations, and multimedia and live electronic interactions. Currently, McClure is collaborating with choreographer Justin Tornow and composer/electronic musician Lee Weisert on the creation of new and experimental works for dance, electronic music, saxophone, and a variety of multimedia elements.
Lee Weisert
is a composer of instrumental and electronic music and an associate professor at the University of North Carolina at Chapel Hill. His recent music has incorporated increasingly disparate elements such as orchestral instruments, found sounds, field recordings, digital synthesis, and analog circuitry, in an attempt to find, "through experimentation, tinkering, and unconventional approaches, a ritualistic and deeply expressive world of sound". Wild Arc, his first CD of original compositions, was released by New Focus Recordings in 2014. He frequently performs with saxophonist Matthew McClure under the group name
MW Duo
. Their performances often incorporate live digital processing, sampling, and extended techniques to create immersive and slowly evolving improvisations. MW Duo has performed nationally and internationally both as an instrumental duo as well as in collaboration with Durham-based dance troupe COMPANY.
Matthew McClure, saxophone
Lee Weisert, electronics
M/W Duo

recital

Matthew McClure (1976), Lee Weisert (1978): Extempore I - Clack Resonance, Primary Euphony, Reflex Clinker

STUDENT CENTER Theatre &TD Semicircular Hall Savska cesta 25