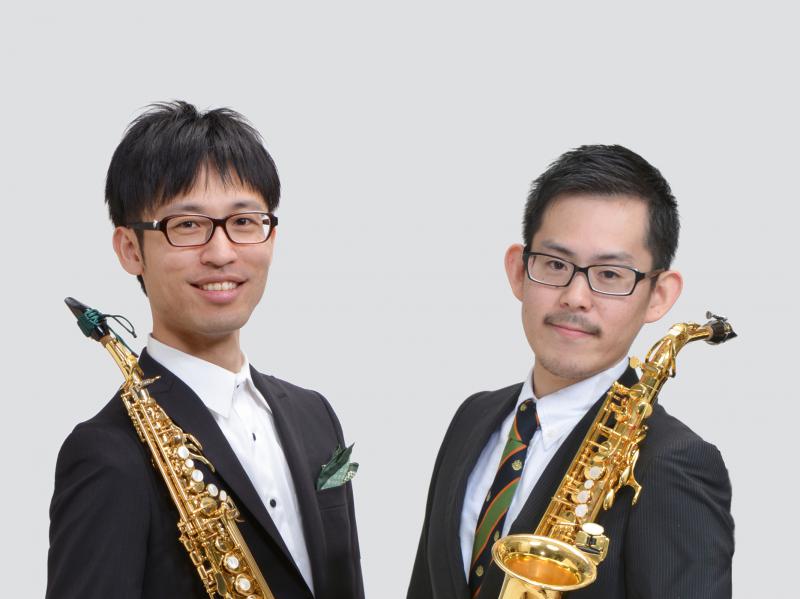 SAKAKI
is a pun. First meaning is surnames: Sakai + Akaki. Second meaning is sakaki (Cleyera japonica), flowering evergreen tree. Sakaki tree is sacred tree in Japan, and written with the kanji which combines "tree" and "spirit".
Yuya Sakai
is assistant professor of music education at the University of Miyazaki, Faculty of Education. As a soloist, he was awarded 3rd Prize at the 5th YOKOHAMA International Music Competition, and Fukuoka Educational Association Prize at the 58th Nishinihon International Music Competition. His current research focuses on saxophone pedagogy.
Shunsuke Akaki
is a concert saxophonist and lecturer of Yamano Music co., LTD. As a soloist, he has won 1st Prize at the 1st Tivoli Junior Saxophone Competition (Current Kurashiki International Saxophone Competition) and was a finalist in the 10th Osaka International Music Competition. He has appeared as a concerto soloist with the Okayama Philharmonic Orchestra.
Yuya Sakai, saxophoneShunsuke Akaki, saxophone
Duo Sakaki

recital

Nobuhito Sato (1990): Chōjū-jinbutsu-giga relude - Kounomaki, Otsunomaki, Heinomaki, Teinomaki


Tamezo Narita (1893-1945): Hamabe no uta (arr. Takashi Haga)

ACADEMY OF MUSIC Svetislav Stančić Hall Trg Republike Hrvatske 12