Claude and Odile Delangle Duo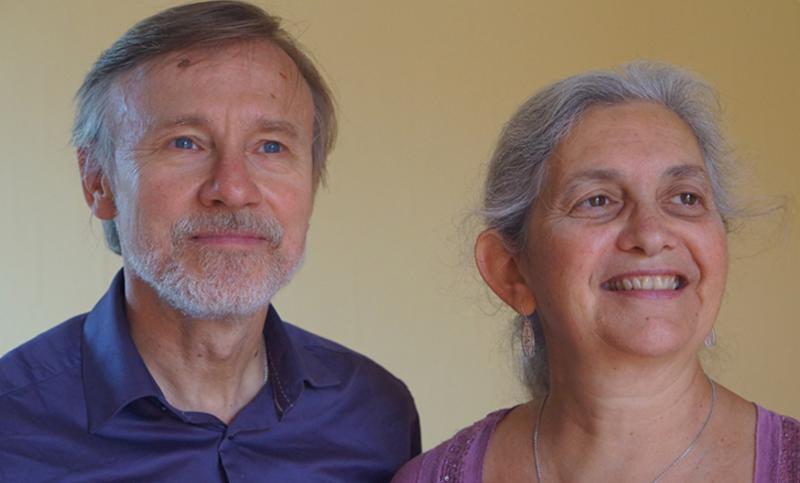 Soloist, researcher and pedagogue,
Claude Delangle
, one of the greatest contemporary saxophonists, stands out as the master of the French saxophone. Privileged interpreter for classic works, he enriches the repertoire and encourages creation by collaborating with the most renowned composers, including L. Berio, P. Boulez, Toru Takemitsu, A. Piazzolla, and promoting the youngest. Since 1986, he is invited saxophonist in the Ensemble Intercontemporain, he also appears as soloist with the most prestigious orchestras (London BBC, Radio France, Radio of Finland, WDR Köln, Berlin Philharmonic, Kioi Tokyo) and works with David Robertson, Peter Eötvös, Kent Nagano, Esa Pekka Salonen, Miung Wung Chung, Guilherme Bernstein and many other conductors. Passionate for his instrument, he goes beyond the work of the soloist and frequents the Musical Acoustic Laboratories of the University of Paris 7. The results of his research on specific acoustics of the saxophone will be for him a precious asset in his collaboration with composers. His recordings for BIS, Deutsche Grammophon, Harmonia Mundi, Erato and Verany bring out French music while revealing new musical horizons from the repertoire created by the brilliant Adolphe Sax to the avant-garde works or the popular repertoire. After obtaining several outstanding Premiers Prix at the Conservatoire National Supérieur de Musique of Paris , Claude Delangle was appointed professor in 1988, where he has created the most prestigious saxophone class in the world. It was at the Ecole Normale where
Odile Catelin-Delangle
carried out her advanced studies under the direction of the great pedagogue Germaine Mounier and where she obtained her "Teaching degree" and her "Concert degree", unanimously. She owes her particular sense of phrasing and colour to the master classes received from the great pedagogue Maria Curcio. Since the 80s she has visited every corner of the planet with her husband, the saxophonist Claude Delangle, and has recorded with him about fifteen discs, mainly for the Swedish firm BIS. Their encounter dates back to their common beginnings at the Conservatoire National de Région in Lyon. Mrs. Delangle has been awarded at the international competitions Maria Canals of Barcelona (Spain) and of Geneva (Switzerland). She also gives master classes on French music; she has a predilection for Debussy, Ravel, Messiaen and Dutilleux.
http://www.saxdelangle.com
Claude and Odile Delangle Duo

recital

Claude Debussy (1862-1918): Syrinx

Philippe Leroux (1959): Conca Reatina

Alex Nante (1992): Trois Nocturnes (Hommage à Debussy)

Claude Debussy (1862-1918): Prélude à l'après-midi d'un faune







ACADEMY OF MUSIC Blagoje Bersa Hall Trg Republike Hrvatske 12